Free - Instant Access

No Sign Up Required
Let's Create a Retrospective!
The premier platform that teams use to conduct fun and effective retrospectives.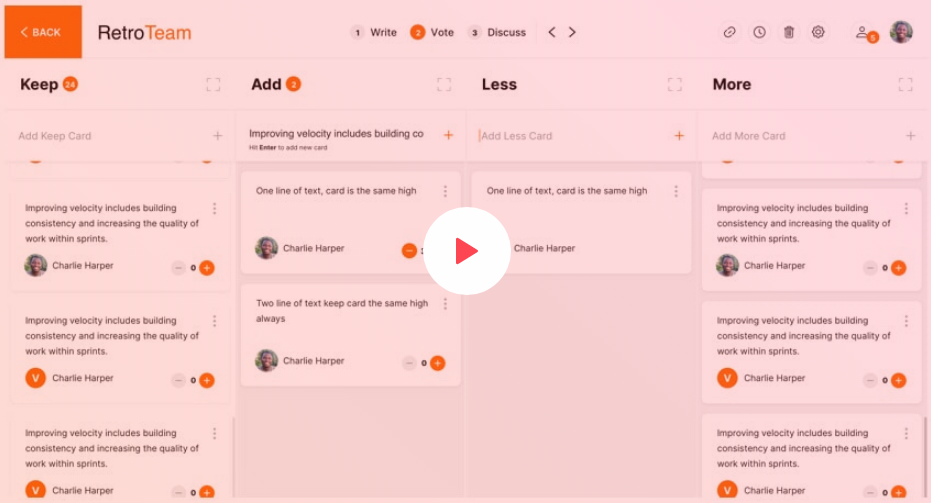 PRODUCT
Retrospective Thinking
Features
100% free and secure
Formats
Choose your formats like - Went Well, Improve, Action / Start, Stop, Continue / Lean Coffee, or create you own CUSTOM format.
Privacy
With one easy click you can either share a private board with anyone on your team
Timeboxing
Set a timer for your meeting or give your team members the ability to mark themselves as finished. With this feature the facilitator can ensure that every upvoted topic is covered and all the users have the opportunity to participate.
PRICING PLANS
For small teams
1 Team

10 users per board

10 Public/Private and Teams Board
Suggested
For medium-sized teams
2 Teams

20 users per board

20 Public/Private and Teams Board
For large teams
20 Teams

200 users per board

Unlimited Public/Private and Teams Board
Lots of people think they work in Agile, but do they really? Here are some of the fundamental parts of a true agile retrospective. What do you think? What works best for your team?
The Lean Coffee Technique is a structured, but agenda-less meeting format for teams to collaborate and make decisions as a group. Using an intuitive, time-boxed approach, participants can explore topics and ideas, make decisions and move forward with projects.
Joining a new team is never easy. Learning the ins and out of a new company or different team can be a challenge. It's especially tricky in the closed group of a retro team. Here are a few of our strategies to do it right to get your new members talking and contibuting from the start.
Sign up Now!
Invite your team and start getting more done